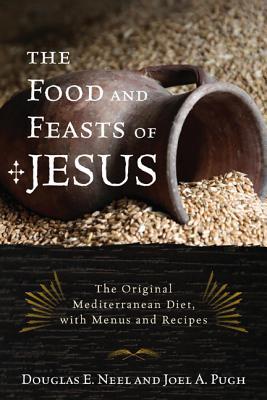 Rating: 4 Stars
Review:
I am in no way someone who could remotely be classified as a cook. I survived college on the standard fare of Ramen Noodles and Hot Pockets. Even today as a so-called adult I like my frozen pizza bagels and baked potatoes. But I am slowly learning simple recipes that Eleanor and I are both able to enjoy. That being said, it might surprise those who know me well that I LOVE food books. Or maybe it won't, because everyone knows how much I love to eat.
And I guess 'food books' is not quite right either, because the books that fall into this category that I enjoy typically include recipes for the very dishes I am reading about. They are more like a history of food, which might seem silly to some, but it is fascinating to read about how different diets were 2,000 years ago - or even 500.
In this book, the authors have a background ancient foods. One is even an Episcopal priest who has taught classes on this subject as well. Clearly they have done this before, and recount their own methods of making these foods eaten so many centuries ago.
The first four chapters focus on the history itself and the different kinds of foods that would have been available in the time of Jesus, and meals He would have had. There is also a chapter detailing the why; why bother trying to recreate meals from so long ago. There is another with sections specifically focused on bread and its importance in the time period.
The remaining chapters then cover a variety of feasts that were celebrated in the lifetime of Jesus, from the Sabbath feast, a typical wedding feast and celebration, to the Feast of Passover, just to name a few. Each chapter first gives the significance of the specific feast/celebration, then details a menu and recipe that would have been used in that time. There are suggestions for substitutes as well, as some of these foods are either no longer available, or we have no way of knowing what the actual food was (Example - references to gourds.) There is also a supplemental chapter to the Feast of Passover that includes prayers and Psalms to be recited at different points in the feast. Other chapters also included appropriate Scripture. The authors focus a lot on creating these feasts and sharing them with friends and family, encouraging the reader to dine as they did so long ago, seated and reclining on the floor or cushions, etc.
My main issue with the book involves some of the repetition. There were some lines and sentences repeated almost verbatim within the feast chapters that had been used in the lead-up chapters of background and history. Sometimes these repetitions occurred within the same couple of paragraphs and I found that annoying.
Overall, however, I thoroughly enjoyed this one and read it in one sitting. I would love to try one some of these recipes for myself, because I do like cooking even though I am not terribly good at it. Perhaps this would be one to enlist my grandma's help on!