One of the great things about the book blogging community is that there are tons of weekly features and memes that you can find to participate in. Doing this helps you meet fellow readers, find a wider audience, and generally increases all kinds of bookish merriment.
++++++++++++++++++++++++++++++
I started this feature to showcase more children's books. I also want to show what children think of the books we choose for them, or that they choose for themselves. My daughter Eleanor is five and has loved to be read to since she was a fetus.
(I'm not even joking. From six months pregnant and on, I read Where the Wild Things Are to her every night. I read it to her from her earliest days after birth and she KNEW the story. It captivated her and her eyes never left me through the entire reading, each and every night I read it to her after that. It remains one of her all-time favorites.)
She has also become an excellent reader herself, but nothing beats crawling into mom's lap for a snuggle and some quality book time. When we finish a book and Eleanor wants to (and she ALWAYS wants to now), we talk about the book and jot down her ideas, thoughts, and feelings. Hopefully here you can find some great books for the little readers in your life!
Eleanor Says...typically posts, randomly. I don't want to set a schedule for her, or make it seem like a job or chore.
Eleanor Says...
++++++++++++++++++++++++++++++
This is one I started myself a couple months ago, when I was reading an article about book nooks. I am kind of obsessed with cozy places to read, so I began searching for photos of different kinds of nooks (Thank you, Pinterest!) Each Wednesday I post two pictures of different nooks and invite anyone to choose which is their favorite and why. It has been an interesting way to spark conversation, as we all seem to have varying tastes and requirement for the nooks we find most appealing. You can check out previous posts and add your two cents at the link below.
Would You Rather... typically posts late on Tuesday evenings or early Wednesday mornings.
Would You Rather...

++++++++++++++++++++++++++++++
Top Ten Tuesday has introduced me to so many new friends. The Broke and the Bookish began this weekly feature back in June of 2010. Each week there is a new topic and bloggers are free to tweak the theme however they need to fit their genres. Sometimes I don't participate because something is too fiction-y, but for the most part I am able to. Sadly, The Broke and the Bookish closed down in January of 2018. Top Ten Tuesday will be hosted by That Artsy Reader Girl, a blog run by Jana, who was a regular contributor to Broke and Bookish.
TTT posts on Tuesdays at Midnight Eastern/Mondays 11 PM Central.
++++++++++++++++++++++++++++++
I first discovered First Line Friday back when it was smaller and there was a group of friends who shared weekly the first line of whatever book was near them at the moment. Despite the name, it is not a hard and fast rule that you can only share the first line, or even that it has to be the very first line of the book. I have been known on occasion to share the first paragraph, or the first line of a certain chapter. Originally there was a small group of us, so we simply (truthfully, not so simply!) linked everyone else's blog in our own post each week. But as numbers grew it was a bit more difficult to manage, so the original four (Carrie, Rachel, Beth, and Sydney) decided to go the Linky Widget route and Hoarding Books was born in order to host the feature.
FLF posts on Fridays at Midnight Eastern/Thursdays 11 PM Central.
++++++++++++++++++++++++++++++
If there is one thing I excel at, it is stacking my bookshelves! Stacking the Shelves is co-hosted by Tynga's Reviews and Reading Reality. It is dedicated to showcasing your weekly haul of books, whether it be physical or digital, borrowed from a friend or the library, etc.
Stacking the Shelves posts on Saturdays at 8:00 AM Central.
++++++++++++++++++++++++++++++
Here are the guidelines, directly from Evelina's blog, about State of the ARC. This is meant to be a fun way to keep track of your progress with ARCs (Advanced Reader Copies) and to see how others are doing. It is a chance to talk about the challenges you deal with, as well as any setbacks along the way. Let me be very honest, my main setback is that I can't stop requesting ARCs! Once you have posted your own for the month, visit other bloggers linked up and see how they are doing. As always, this is meant to be fun.
State of the ARC posts typically around the 30th of the month.
My State of the ARCs
+++++++++++++++++++++++++++++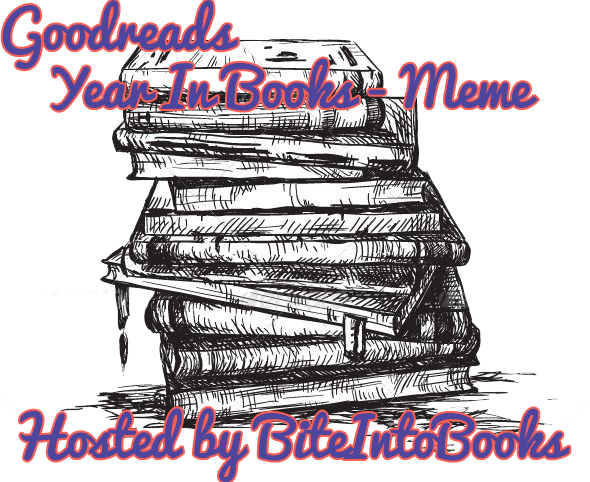 This meme started in 2017 and I was tagged to participate in 2018. It is a neat way to collect your stats from Goodreads and share with fellow bloggers. I will be including it in my year-end 'Best Books' post. The meme was started by Esther @ Bite Into Books and can be posted any time at the end of the year.
Year in Books can be posted any day in the last week or so of the year.
My Year In Books
+++++++++++++++++++++++++
Thanks to Chuckles, I might stand a chance of clearing out some books on my TBR. Right now the list is out of control, over 4,000 books. I will, of course, never run out of books to read, but there are so many to read and so little time. I will be following the same idea as Chuckles and will include details such as total TBR that week, books reads, books DNF-ed, books removed without reading, books kept after reading, and books given away - possibly other categories, whatever I come up with. This will help hold me accountable and see my progress.
Tackling the TBR will post on the 7th, 14th, 21st and last day of the month.
+++++++++++++++++++++++
I found Books from the Backlog thanks to Chuckles. The feature is hosted by Carole's Random Life in Books. I think this one will be helpful in finding some of those treasures I added to my TBR early on, then promptly forgot about as I added more and more treasures.
This feature posts every Thursday.
++++++++++++++++++++++
I definitely encourage participating in any of these. And if none interest you, there are so many others out there as well. You don't even have to do a post yourself, but check out what others are posting, you may just find a few new books for your TBR.