Top Ten Tuesday is a weekly feature brought to you by
The Broke and the Bookish
. Each week there's a new topic and who doesn't love making lists? It's also a fun way to meet other book bloggers and find new books to add to that ever-unwieldy TBR list.
I am super excited about this one because it is all about future releases that I can't wait to get my hands on. Seriously, I am practically dying over here.
May 30: Top Ten Most Anticipated Books for the Second Half of 2017
While you will find a far shorter list than usual, I am so very psyched to read all four of them. Here they are, in order by release date.
Seriously. Dying.
Publication Date: May 17th
I am kind of cheating a little with this one because it was actually just released here in the US, in what is still the first half of 2017. But you may know by now I tend to bend the rules a lot so, you're welcome. I know my fair share about Alfred the Great, but know much less about his children. Once again, my little Eleanor is lucky I discovered Eleanor of Aquitaine before Boudicca, or now Aethelflaed.
Publication Date: September 1st (UK)
(The author has informed me that while there is not yet a US date set, it will be released here eventually. In the meantime, he did also let me know that
The Book Depository
does FREE worldwide shipping, so...)
I always enjoy a good argument for whether or not Richard III ordered his nephews to be murdered. I used to unequivocally believe that yes he was the culprit. I still believe so, but now am much more open-minded about other possibilities. This book explores not the death of the princes, but the possible LIFE they might have had instead. What if they were not murdered at all, but managed to survive both the fall of the Plantagenets and rise of the Tudors?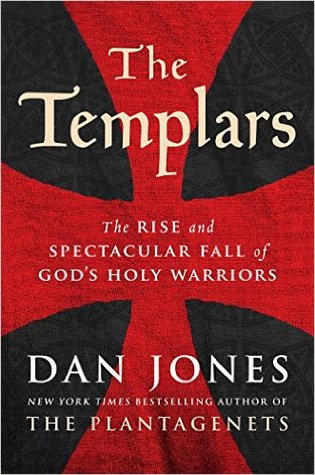 Publication Date: September 7th (UK), September 19th (US)
Duh.

My stomach does flip-flops just thinking about this one. I had to include both covers here, as I prefer the UK one (left) to the US one. I. CAN'T. WAIT. I am especially looking forward to it because there seems to be so much utter garbage popping up lately AGAIN about the so-called Templar caves and other rubbish. Hopefully people pick this one up to help them differentiate between fact and fiction.


Publication date: August 15th (UK), November 1st (US)
I just stumbled across this one by accident and am so glad I did. While I have a pretty good knowledge base about Henry VII, I don't know nearly as much as I'd like to about his mother, father, and uncles - or any of his extended family.
What books are you most excited for? Let me know what you think of my choices and leave me a link to your TTT as well.
Happy Reading!
Sarah