As of 5:50 this morning I am a newly minted mid-30s adult and that sounds so weird to me because sometimes a lot of times I am immature AF. I'm also impulsive, stubborn, quick to anger, and spoiled rotten. In short, I'm a peach 😘 But hey, I'm an only child so, it is what it is.
Anyway, my momma is awesome. One of my favorite things about my birthday is the fact that throughout the day leading up to January 17th, I get emails from her like, "It was about this time when I started having contractions", "This is when my water broke", and my personal fave, "This is about the time that Grandpa drove me to the hospital in the White Van and we didn't die".
(Side note about the White Van, this hunk of junk is one of my most treasured childhood memories. There were only two seats, one for the driver and one for the passenger. There was a freestanding chair in the back that was in no way secured and I LOVE RIDING IN THIS VAN whenever Grandpa and I had to go run errands for Grandma.)
And then The Call comes every January 17th at 5:50 AM without fail, my Momma telling me how this is when she was holding me in her arms for the first time. Still half-asleep, I listen while my Momma sings Happy Birthday, tells me she loves me, and to go back to sleep. I love this tradition and can't wait to carry it on with Eleanor when she is older (though right now she wants me to go to college with her, so I wouldn't have to email or call. I could just leave little Post-It notes around the dorm room she plans on us sharing.)
Naturally there are gifts to be had and this year I received a gift card with the amount of my age, because Momma knows I have to choose the books myself. Here is what I selected:
I've already read this, and absolutely loved it. It has all the kinds of history that I would want to know when I am finally plunked down smack-dab in the middle of NYC and have the luxury of exploring the boroughs for days on end. You can find my review HERE but it doesn't even do this gem justice. If you are going to NYC, I highly recommend using this as a guide book and you will find all the sights/sites you didn't even know you were looking for.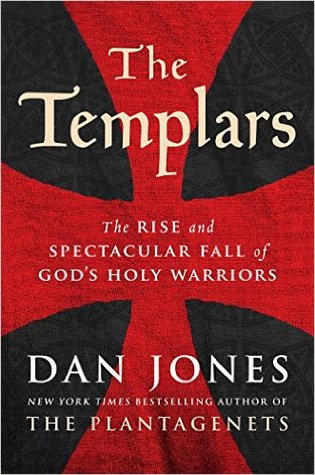 Now, if you know me but at all, you know that in September of 2017 I got to meet Dan Jones and before his US book tour for this particular treasure, I actually won a limited edition autographed proof (complete with my preferred UK cover). BUT, I had to snag this one because I need my collection to be complete (and in paperback. Yes, I am one of those who has some intense OCD tendencies about my books). You can check out my review HERE. Plus, he can sign this one AND his forthcoming book on the Crusaders book during his next visit to the US.
This is one I have been wanting for a long time, and finally bought. I have this habit of totally forgetting any book I want to buy when I actually have a gift card to go buy them. I spent a looooooooooot of time going through my TBR to see what I really wanted, and this was it. I am super excited, because I love NYC and all the history contained on that tiny piece of real estate.
Have you read any of these? If so, which one(s)?