November 1
: Top Ten Books To Read If Your Book Club Likes _______________ (if your book club likes historical fiction, inspiring stories, YA books, non-fiction, controversial books to debate about, or pick a specific book). Thank you to The Broke and the Bookish, once again!
The specific topic I am using to complete the sentence is 'Top Ten Books to Read if Your Book Club Likes Gilded Age NonFiction. I know, I know, it is super specific, but whatever. Call in non-fiction if you'd like. These books are fantastic and you should read them. Here is my list, in no particular order: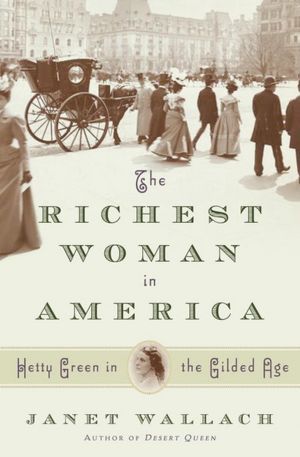 1. Fantastic read about a woman who thrived in an era that saw money-making typically reserved for men. Hetty Green is a fascinating woman and it is a shame that more people do not know of her the way they do the Morgans, Rockefellers, Carnegies, etc.
2. Some people seem to prefer one of these biographies over the other, but I really enjoyed both of them - insofar as you can enjoy learning about someone who seemed to be taken advantage of repeatedly in her later years. But I feel like both books gave a very clear and well-rounded picture of Ms. Clark, her family, the vultures who were after her money, and her massive fortune.
3. If you have never seen one of Shakespeare's Folios in person, you must remedy this ASAP. In the meantime, read this book that details how we came to have the Folger Library and these magnificent works of genius here in the US - instead of in England where they rightfully belong.
4. Oh, man. what I wouldn't give to be a fly on the wall at an Astor party, just once. Though, this book deals less with THE Mrs. Astor specifically than with the time period in which she lived. The book recreates the time period well and you get a good sense of Gilded Age New York.
5. Does a book about Rockefeller Center really need much of an explanation?
6. I really enjoyed this one, despite my lack of interest in finance and the economy in general. It not only looks at the successes and failures of these four men, but how those successes and failures impacted the rest of the country and the industries they captained.
7. It is mind-boggling as to just how reckless the Commodore's descendants were. A true rags-to-riches story, with a back-to-rags story. Except not quite rags, of course, because this is the Vanderbilts we are talking about after all.
Here are some additional titles that I personally have not read yet, but people I trust have recommended to me based on the aforementioned books. If you have read one, or read it in the future, let me know!
There are so many more I could add here but if you check out my 'Gilded Age New York' list on Goodreads you will find many more!
Let me know what you think of my list and leave a link to your own list so I can check it out.